Pretty much anyone who wants to can become a personal trainer, just like how anyone can paint on a canvas and be an artist or write a book and be an author. But not everybody becomes a Picasso or a Shakespeare. Some might argue the difference is in talent, but that's only a small part of it. The true difference between being a mediocre personal trainer for six months and a successful personal trainer for decades is the work you put into your business each day.
Think about how you approach success with your clients. You probably tell them that the only way they're going to see the long-lasting results they want is if they show up and give it their all day after day, right? Every calorie burned, pound lifted, and step taken determines how far they get on their journey. The same concept applies to you in that the way you manage your personal training business on a day-to-day basis is what is going to set you up for success — or failure — in the long run.
We understand that the responsibilities that come with running your own training business can be demanding and overwhelming. After all, along with being a personal trainer, you also have to be your own accountant, secretary, marketing executive, and customer service representative, among other things. In this final part of our ultimate personal trainer guide series, we'll walk you through the ins and outs of handling those obligations to help you become your own personal trainer success story!
The Day to Day of Running a Successful Personal Training Business
Setting up your personal training business is a huge step that, if you're reading this, you've already completed. Hooray! Unfortunately, many entrepreneurs find that getting set up is actually easy compared to running the day-to-day operations of a business. But we find that if you break the process down into smaller, less intimidating areas to focus on, it's a lot easier to tackle. That being said, we've singled out the major daily components to make your PT business a success:
Finance Management
Business Administration
Time Management
Continuing Education
Client Management
Seems a little less scary, doesn't it? If you're still overwhelmed, don't worry; we're about to dive into each category in more detail.
Finance Management
Once you've launched your business and start taking on clients, you'll start to see a steady stream of revenue coming in. When that happens, you need to make sure you're managing your finances, keeping accurate records, and staying on top of your in and out cashflow. This is a crucial element to your long-term success, as studies have shown that 82% of businesses fail because of poor cashflow management.
Since it's so important and can be complicated to master, finance is often a subject that fills many with dread, but it doesn't have to be that way. There are plenty of tools out there now that make the financial aspect of running your personal training business a lot simpler — like My PT Hub! Here's how our features can help you manage your finances:
Take payments online. Using the world's largest payment gateway, Stripe, you can sell your services and take payments easily and securely online. You'll also have the option to add any offline payments, such as cash or check, to your account so you can track every dollar.
Create packages to sell your services. Through the app, your clients can purchase a credit package to be redeemed for any of the services you choose to list.
Create your Terms of Service. As part of your onboarding process, all clients should sign a "Terms of Service" agreement. This will help paint a clear picture about your payment terms and what happens when a client doesn't pay, which will help you in case you need to terminate a service with a client. Create and store yours online with our Forms feature.
Track financial data and analytics. Our Finance feature allows you to see all of your business's financial information in one place. You'll find key metrics like total number of transactions, total revenue, billing, invoices, your account balance, bank transfers, and any receipts you've recorded.
My PT Hub is a great resource for managing all your financial data on your own. However, it would still be worthwhile to seek the advice of a business accountant, or even hire one if you have the means, as you're getting started to ensure your budget is on the right track.
Business Administration
The administrative aspect of running a business is perhaps the most tedious for many new independent personal trainers. No matter what industry you're in, you're never going to be able to escape the paperwork that comes with being your own boss — even if it's digital these days.
As a fitness professional, a lot of your admin is going to revolve around your clients, e.g., creating training programs, keeping track of their progress, communicating with them, organizing their information and documents, and taking their payments and bookings. Personal trainer business administration also includes managing the growth of your business through your finances (as detailed above), marketing, advertising, and keeping up with your online and community presence.
If you're thinking this sounds like a lot to take on while you're trying to build relationships with your clients at the same time, you're right! But that's where My PT Hub can help you again. With our business software features, you can automate a lot of your administration to free up your time for your clients. Through the app, you can create or upload and store custom documents, auto schedule workouts for clients, organize client data into groups, and stay connected with clients via direct chat and an activity feed.
Time Management
The most important thing to remember as you're establishing your personal training business is that if you spread yourself too thin, you're setting yourself up for failure. Have you ever heard the phrase "you can't pour from an empty cup"? Well, it's a cliché for a reason!
Having a work-life balance sounds like a luxury to many personal trainers, but the truth is it's a necessity. If you neglect your own needs, you won't be able to give 100% to your clients. They'll be able to tell if you're stressed and overworked and their experience will not be as positive, which will affect your retention rates in the long run. The key to achieving this balance while maintaining a high-quality business? Planning.
The first part of proper time management is setting goals for your business. When you know what you're working towards, then you'll be able to best decide how to allocate your time to the tasks that will get you there. For tips on outlining your business objectives, check out the section about SMART goals in our personal trainer marketing guide.
Once your objectives are set, you can figure out what steps you need to take to get there and how you can fit them into your schedule. We suggest planning and prioritizing these tasks a week at a time. This way, you're not putting so much on your to-do list that it becomes overwhelming and impossible to finish, but enough to make daily progress toward both short and long-term goals. HubSpot's weekly schedule template is a great resource to help you get started.
We also suggest designating and sticking to specific working hours to offer your clients. It's easy to pack your schedule too tightly because you keep squeezing in "just one more" client in your off hours. But you need that time to handle the other back-end aspects of your business. You can even set up your hours on your public calendar through My PT Hub, so clients are only able to book sessions during that time.
Continuing Education
You know how Apple releases new products every year or two with more and better features? When you run your own personal training business, you sort of have to do that with your services too. Especially as competition in the industry grows — an expected 39% through 2030 in the U.S. and 21.2% in 2022 alone in the UK — you have to constantly be finding ways to offer more value to your clients if you want to stay relevant and succeed long term.
How can you boost your skillset and enhance your services for your clients? Here are a few ways:
Stay on top of the latest health and fitness news.
Take courses on topics like business, finance, and marketing to help you refine your business.
Follow relevant influencers on digital platforms.
Keep an eye on the latest fitness trends.
Watch your competitors.
Read free and relevant resources, such as the My PT Hub blog.
Invest in continued professional development.
Client Management
Of course, no matter how well you organize your paperwork or budget your finances, the crux of a successful personal training business is always going to be your clients. Client management includes not just creating their programs and meeting for sessions, but also communicating with them regularly to check in on their progress and support them on their way to their fitness goals.
In the next section, we'll take a closer look at how you can build strong client relationships that translate into long-term success for your personal training business.
Tips for Building Lasting Relationships with Your Fitness Clients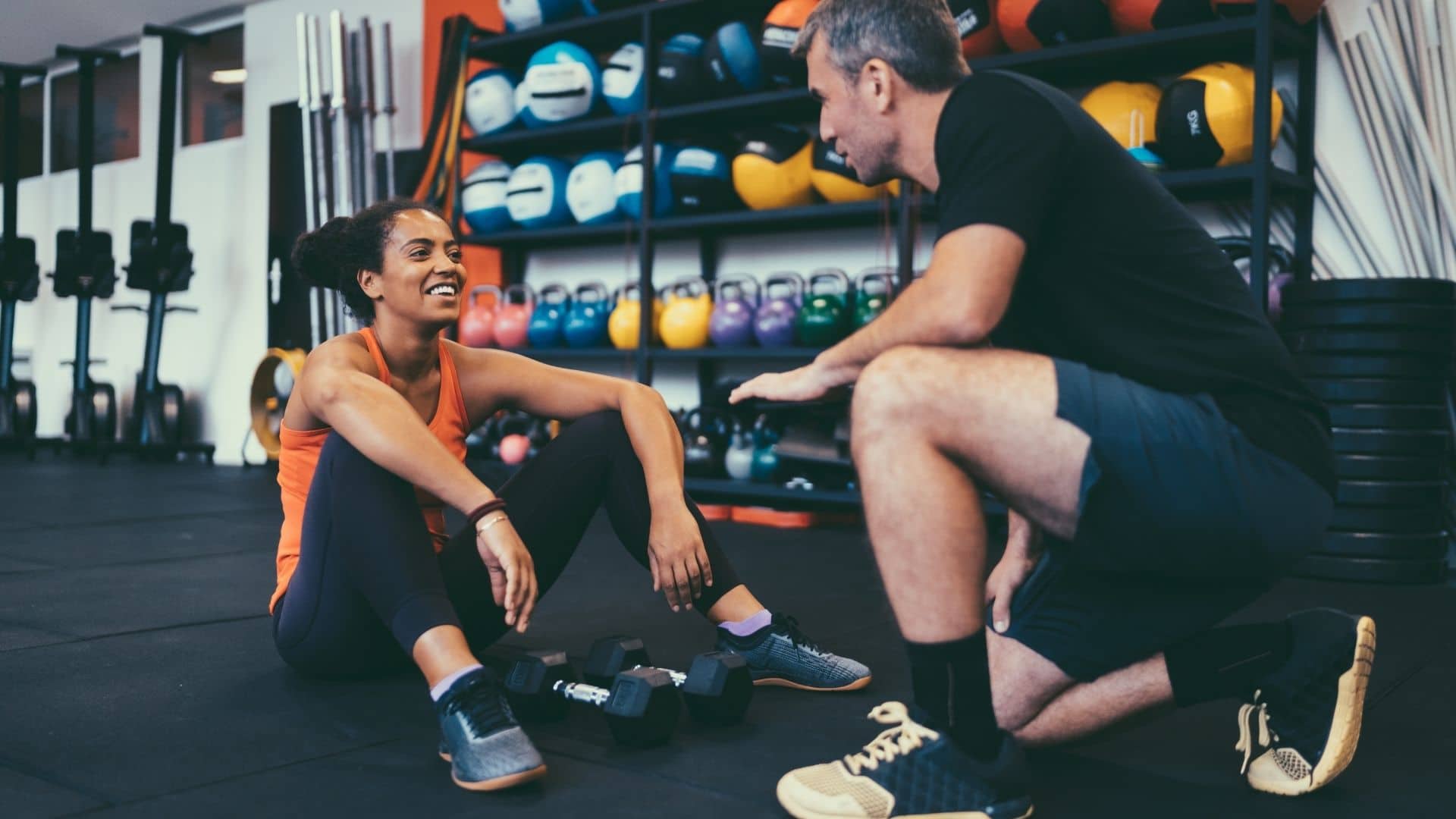 Getting new clients is a crucial part of growing and sustaining your personal training business. Sometimes, however, trainers who have just branched out on their own are so hyper-focused on acquisition, they forget about the importance of working to retain the clients they already have. Since your probability of selling to an existing customer is 60-70%, while your probability of selling to a new customer is only 5-20%, it would stand to reason that retention is just as, if not more, important to running a successful PT business.
Lasting client relationships are foundational to high retention rates for personal trainers. When your clients feel that you know, understand, and care about them as people and about their fitness journey, it fosters loyalty — which translates to revenue. To build strong, enduring connections with your clients, you'll need to focus on mastering client communication and management.
When you can expertly communicate with individual clients and manage your total client load, you'll have all the skills you need to form deep-rooted and profitable customer relationships.
Communicating with Your Personal Training Clients
Part of what many people love about going to the gym is the social element. Working out with others is a great way to stay motivated, hold yourself accountable, and receive support on your fitness journey. Since personal training is, by nature, an individual activity, it lacks the same sense of community your clients would get by going to work out at a gym or even with a gym-employed personal trainer. But by communicating with your clients regularly, you can help fill in that gap by providing the motivation, accountability, and support they would find at a gym.
The more you communicate with each client throughout their training program, the stronger rapport you'll be able to build. Strong rapport makes for a lasting relationship, which as we already went over is the key to retention. Unfortunately, keeping in touch with every one of your clients daily or almost daily is a tall order. My PT Hub can make it easier, though, with features that streamline and automate client communication!
Using our Chat feature, for example, you can message clients directly, send pictures, videos, and voice notes, and even create group chats with multiple clients. You can also automate certain messages to be sent out at different points in a client's program, such as when they reach a specific milestone. Direct and automatic messaging is a great way to give your clients an extra boost to stay motivated, while also showing that you're there for them and as dedicated to them reaching their fitness goals as they are.
Client Management Software for Personal Trainers
For any client-centered business, client management software is a necessity. There is a lot of information to remember and track for each of your clients that enables you to personalize and optimize their experience with you. A client management software will store, organize, and analyze that information for you, so you can pull it up and use it as needed.
As part of My PT Hub's suite of personal trainer business tools, we offer an array of client management features to handle the administrative aspects of developing client relationships, so you can keep your focus on the human aspects. Here are a few of the ways you can manage your clients with our software:
Add unlimited clients.
Instant chat with clients through the app, create group chats, and broadcast messages across your client base.
Create and store notes for each client, including PAR-Qs and progress photos that clients can update regularly.
Allow clients to share their progress info on Facebook with your logo embedded into their posts.
Create a public calendar where new and existing clients can see your schedule, book, and pay for sessions, classes, and events.
Offer clients a streamlined service experience through your own custom branded trainer app.
Successful Personal Trainers Keep Their Clients Accountable
Holding clients accountable for working toward and reaching their fitness goals is another integral part of retention and long-term success. If clients don't see results, they're not going to have an incentive to keep training with you — i.e., your client's success is your success. Without accountability from you to show up and do their part of the work, they're probably not going to see results.
If you want to successfully keep your clients accountable, you need to understand what their goals are and what motivates them as an individual. An easy way to ensure you understand your clients' goals? Help make them!
Setting Goals with Clients
When you first acquire a new client, schedule a quick complimentary session where you sit down together and discuss their fitness goals. This will be beneficial to both of you, as you'll be able to better tailor their training program and they will get a full understanding of what action they need to take to succeed. Make sure to be upfront and honest with each client during this process, so you can help them set realistic goals that they can work toward. When clients feel like they can achieve their goals, they're more likely to stick to the plan you set for them.
These don't just have to be goals about weight loss or hitting macros either. Include goals that support healthy lifestyles for your clients too, such as drinking X liters of water a day, taking X number of steps in a week, or getting X hours of sleep a night. Your clients will be able to celebrate even more wins, which will help keep them motivated, and you'll add more well-rounded value to your services.
Setting and tracking lifestyle goals for your clients is easy to do with the My PT Hub Habit Tracker. You can assign habits using pre-built templates or create your own custom ones. Using in-app and watch alerts, you're able to remind clients to track their progress, and then you can view it in your app. You'll be able to connect with your clients on a deeper level and gain a more holistic view of their progress. The benefits of habit tracking are infinite.
Client Check-Ins
Once you've worked with a client to outline their goals, it's important to continue to check in with them as they go through their program. Every week you should have a conversation with each client about where they're at, how they're feeling, and other aspects of their fitness journey. You could do this in person, virtually, via email, through text, or by creating a check-in form in the My PT Hub app. Here are some examples of questions you can ask during your check-ins:
How has your week been?
How would you describe your mental state over the last week?
What factors, if any, have been affecting how you're feeling?
Are you happy with your progress this week?
Download our free worksheet to see more examples of questions you can use for or to inspire your weekly client check-ins!
Stories from Successful Personal Trainers
No matter how passionate you are, running your own personal training business can present challenges that make you wonder if it's worth it. With everything you have to do to start your business, grow it, and run it day to day, you may start to feel as though you'll never reach your stride and have long-term success.
Well, something that can help motivate you through the stress and obstacles (besides knowing that we believe in you!) is reading about other people who were once in your shoes and made it to where you want to be. If you're feeling overwhelmed and anxious about your business, take a minute to read these personal trainer success stories and remember you'll be there before you know it!
Natalie Kimball
Natalie Kimball is a U.S.-based Life Alignment Coach, Master Trainer, and owner of Natalie Kimball Fitness. With over 10 years of experience in the industry, Natalie recently transitioned all of her fitness and personal development business to online services.
Natalie leads by example. She lives by the mantra "There's greatness within all of us, we just have to believe it." She also says, "We have to claim our desires to make change." Recently, she did just that by uprooting her life and moving 3,000 miles away from home while transitioning her business to completely online coaching. Natalie's ultimate motivation is to trailblaze a path for anyone who might think they are undeserving of greatness. "I work relentlessly to empower individuals. Whether it be physical training, belief work, or habit implementation, I watch my clients gain an entirely new perspective on life."
A main goal for Natalie when taking her business online was to focus on being able to help as many people as possible without the limitation of where she's at in the world. Online coaching gives Natalie the ability to work closely with her target audience on their goals, while still being able to create a close-knit community who connect purely online.
Joe Mitton
Joe Mitton is the Owner and Founder of MittFit, a UK-based group training and online coaching business. Joe works with clients globally, from the US to Spain and Ireland to Sri Lanka! Although group training has always been at the heart of the MittFit business model, more recently the team has had to adapt — and this meant holding classes and working with clients online for the first time.
A huge motivation for Joe is building strong and meaningful relationships with each of his clients. With that in mind, Joe was determined to try and replicate this as much as possible when he was forced to take his business online for the first time, due to the global pandemic. Since then, Mittfit has continued to offer online coaching options for their clients, having seen great success while still being able to maintain the strong feeling of community they are well known for.
How My PT Hub Helps Personal Trainers Succeed
As demanding as it is to run personal training business, the silver lining is that there are plenty of resources out there offered by companies who truly want to see you succeed — like My PT Hub. Over 85,000 personal trainers, coaches, and fitness professionals are using our software to streamline their day-to-day operations, grow their business, and build client relationships that last. Here's what some of them have to say about how My PT Hub has helped pave their way to success:
"I would love to say that this app really has it all and allows you to do it all. From the customization aspect, down to the preset programs. I am in love with MyPTHub! Absolute 10/10"
"It allows those who didn't have access to me to now have my programs in their hands. Their workout and schedule platform and the way it's set to sell packages is amazing, as I've sold several programs through the app for online training. The video library and exercise descriptions are bar none above the rest."
"I love having ready-to-go workout plans that are easy to start using with clients, as well as the ability to customize with my own workout videos. This is a great app to help clients stay connected and on track.
"It is helping me a lot to organize the customers, to know exactly what they are doing, to save time in collecting feedback, photos, making evaluations. I didn't expect it to be that good."
You can now download The Ultimate Guide to Starting a Personal Training Business to take all of this info and more with you.
At My PT Hub, our goal is the same as yours: to ensure you deliver the ultimate client experience. The whole idea behind our all-in-one personal trainer software is to allow you to provide personalized programs and constant support that make every client feel like they're the only one you're working with.
Let us help you take your business to the next level without taking your workload to the next level with it. Sign up for a free 30-day trial to see the difference My PT Hub can make in the success of your personal training business!