What does it mean to be a successful personal trainer?
Unlike the straightforward question of 'what does it take to become a personal trainer?' (of which the nuts and bolts answer is 'getting qualified'), defining success as a personal trainer is a bit more up in the air.
If you're a relative newcomer to the world of personal training, that by no means something to be disheartened about. Because there is no fixed definition of success for personal trainers, you actually get an immense amount of freedom to forge your own path.

If we think about those we consider the elite, the UK's most successful personal trainers, each story is different. Some have written books while others haven't, some have gyms around the world, while others just a few locations in London. There are no concrete metrics or blueprints but there is plenty we can all learn from these PTs.
Nick Mitchell, Founder of Ultimate Performance
The best place to start is with the founder of Ultimate Performance, Nick Mitchell who is perhaps one of the most recognisable names in fitness.
"What makes a great personal trainer can never be merely one thing! We have to wear a ridiculous range of hats in order to best serve the extremely diverse requirements of our clients", he says.
He goes on to talk about personal training is really about: "Great trainers can come in many forms and guises, but they all have just one single thing in common – they take their client's results personally… results should be the lifeblood of how you grow your personal training business and create a lucrative and financially rewarding long-term career for yourself." For more from Nick, it's highly recommended you check out this lengthy yet incredibly illuminating interview.
Matt Roberts, Founder of Matt Roberts Evolution
The idea of always coming back to results and not getting too carried with other things is also echoed by another leading Personal Trainer, Matt Roberts.
Matt has 23 years' worth of industry experience, several high-end facilities in London, and has trained everyone from fashion designers to politicians. Despite all the success, the accolades and everything else, Matt's keen to remind people that "personal training is a results business and we're here to ensure that our clients get what they want for their hard-earned money."
David Kingsbury, Celebrity Personal Trainer
What are some of the other ways you can ensure your own success as a personal trainer? Well, David Kingsbury kindly offers some advice from a bit of a different angle.
Many will know David by name, but perhaps more so for the A-list Hollywood talent he's trained over the years, the likes of whom include Ryan Reynolds, Jake Gyllenhaal, Jennifer Lawrence, Michael Fassbender and Hugh Jackman.
He says "you should always continue your learning. You want to make sure you've got a good base level of knowledge that's constantly expanding. As you're training people, you're always going to be presented with new and unique challenges and if you can overcome those with the knowledge you've gained, it puts you in a really strong position."
Many Personal Trainers reading this will no doubt be hungry to apply themselves, push their careers further and find the freely available success that's out there. It's important not to rush though and David really drives this point home saying: "One of the bits of advice I wish I was given when I first started out is to be patient. It does take time. I qualified as a trainer when I was 18 and I don't think I did a personal training session until I was about 20. I was just doing gym instructing and then I started my own business at 23. It was a good couple of years from that until I got my first film job. So we're talking six, seven, eight years from qualifying to getting my first film job. If I'd got that contract any sooner, I wouldn't have been ready for it."
To follow David's advice to always continue your learning we have a list of the top 5 podcasts you should check out.
Hopefully that should provide you with a bit of inspiration and help you realise that to find success as a Personal Trainer, however you define it, you need to have a strong, client-facing approach. Above all else, you also need to patient, particularly in the face of setbacks.
If you're a personal trainer looking to develop your skillset and widen your client base, get in touch to learn more about HFE's industry-leading range of courses and CPD opportunities. Opportunities to study are available nationwide including London, Manchester, Glasgow and many other locations.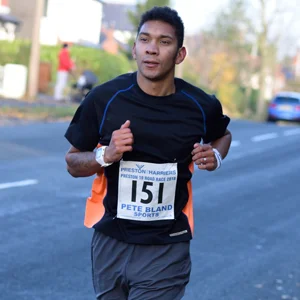 Written by: Josh Douglas-Walton, writer in residence for HFE, the UK's most popular provider of PT courses and fitness qualifications.
Josh is passionate about all things health and fitness, and in his spare time he's a keen marathon and ultramarathon runner.
---